From childhood fascinated by computers Norma DePriest '19, and she also had an eye for their security risks. Using an early home computer, a Commodore 64 (C64), she and her friends discovered that they could access an organization's internal information through bulletin board systems (BBS). "Somehow we ended up in a BBS business system and were able to access documents that we probably shouldn't be seeing," she said.
As a high school student, she attended application training at an adult education center that didn't challenge her enough – so she found a "back door" into the software. This prompted the community college to ask her to teach an adult evening class. She was just 17 years old.
Given her talent and skills, one might think the rest is history, but life has taken her on a different journey; one that still got her where she wanted to go. DePriest was interested in music and video production. She then became a mother and embarked on a career in information technology, taking mostly project-based jobs that enabled her to support her five children.
Time passed, but her love for computers was undiminished – as was her desire for more in the field.
It wasn't until DePriest experienced a period of homelessness and other personal obstacles that she realized it was time to return to school and focus on her future. The solution came with its challenges, but she wanted to set an example for her ever-growing family — especially the granddaughter she was raising.
"I looked around and thought this might not be the example I wanted to give her," she said. "This was not the example I wanted to set for my grandchildren, and if my children and grandchildren see that I persevere and pursue what I wanted, then maybe they will follow in my footsteps."
Finding a cyber community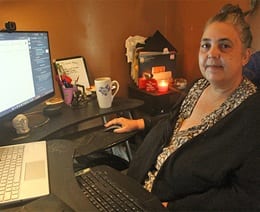 When it came to finding the right school, DePriest looked for one that offered team-based and competitive learning opportunities for students interested in cybersecurity. She came across an article about a group of women from Southern New Hampshire University (SNHU) participating in the school's National Cyber ​​League (NCL) and decided to apply.
About a month before DePriest started her first class at SNHU, she heard from Terry Winn, the coach of CyberSNHUper's NCL team. Despite her battle with impostor syndrome and fear of failure, she joined in — and it quickly became a central part of her journey.
Joining the CyberSNHUpers introduced DePriest to her classmates as she was just as invested in cybersecurity as they were. Together, they participated in team and competitive challenges that tested their work knowledge and skills, and formed close friendships.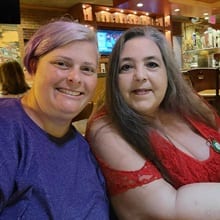 "We've become family, not just classmates or Cyber ​​League participants," DePriest said. "We help each other, learn from each other, encourage each other and ensure that everyone we meet receives the same support as we and those before us so that the torch is passed and the tradition we have created together is passed on goes far into the future."
DePriest first met some of her cyber friends in person at the Women in CyberSecurity Conference (WiCyS) 2019, where they had the opportunity to learn from professionals in their field. The experience reaffirmed her love for cybersecurity and her desire to help others in this area as well.
"I've finally found my people," she said. "You understood me – welcomed me. I immediately felt comfortable and the learnings from the conference helped shape my direction."
She also earned her associate degree in IT that year, followed by a bachelor's degree in general studies three months later. But she didn't stop there. She still had to get her master's degree.
supported on the go
As DePriest progressed through her college and embraced every available cybersecurity opportunity, she had two very important people in her corner: her mother and her mentor.
DePriest said her mother is an example of good leadership, ethics and morals — and that she is very invested in her daughter's education. When Norma joined SNHU, her mother was diagnosed with stage four lung cancer that was inoperable. But that didn't stop her from supporting her daughter throughout her SNHU journey. She asked DePriest for grade updates, met her friends, and tuned in to the live shows her daughter coordinated and hosted for Cyber ​​Skyline, the organization behind NCL.
"She fought a very hard fight with everything she could and watched me earn two degrees and most of that degree," DePriest said. "After coming this far, I promised her that I would not only finish, but succeed, never give up on my goals, and be the person she knew I could be."
DePriest's mother lost her battle earlier this year, but not before helping her daughter realize she had another mentor in her life.
CyberSNHUper Coach Winn is someone who has been there for DePriest throughout her time at SNHU, supporting her through personal and professional hurdles. "Any professional question I had, he always answered with the best advice that could be given for the situation," DePriest said. "… He is one of the keys to my success in my studies and my professional life and has become a valued friend and mentor to me."
"Give back" as a mentor
Three years ago, DePriest transitioned from an NCL player to a mentor, first as an ambassador and now as a league committee member. "I absolutely love being in a mentoring role," she said. "I feel like I'm helping people navigate the path of the internet," she said.
In her position, she supports the players and answers their questions. "I really enjoy seeing people get excited about learning and how happy they feel when they understand a safety concept and can apply it to a real-world situation," she said.
It didn't take long for her to thrive in the supportive NCL community, and now DePriest feels meaningful to make a difference.
"Norma was the cornerstone of the core group of contestants and is/was always willing to mentor (and) motivate new contestants as they came into their competitive window," said Winn. "…When I look at what the NCL participants are doing season after season, it warms my heart to know that Norma was a part of the outcome," said Winn. Last year, the SNHU was in the top 10 of the competition nationally.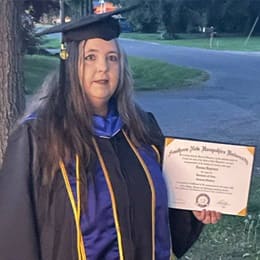 Now, as a grandmother of 20, DePriest is weeks away from completing her Masters in Cybersecurity at SNHU on a scholarship with honors. DePriest was one of 1,152 students nationwide to receive the National Cyber ​​Scholarship Foundation's 2022 Scholar Award, and she successfully earned her GIAC Foundational Cybersecurity Technologies (GFACT) certification this fall.
As she continues to mentor NCL players and complete her college graduate course, she is also preparing for the additional industry-recognized certifications and training that her cyber scholarship has unlocked. She does all of this while working full-time in cloud technology and teaching at a local college.
"It's never too late," DePriest said. "You are the only one responsible for your destiny and it is up to you to take it. When you reach for it, choose something that makes you truly happy because life is too short not to be happy with your career choice."
As a staff member and CyberSNHUper graduate, she will use everything she has learned during her college experience to help new students progress in their education – just as she has defended herself from people. "My goal is to show the world that pursuing your dreams is important and achievable, regardless of your age, gender or economic status," said DePriest.
After seeing her mother go to SNHU, DePriest's daughter is now enrolled in an undergraduate program. "She will be watching me graduate my masters in November and I will encourage and support her on her journey and see her on the same stage four years from now," DePriest said.
A degree can change your life. Find the SNHU online program that can best help you achieve your goals.
Rebecca LeBoeuf '18 is a writer at Southern New Hampshire University. Connect with her on LinkedIn.