Educators from China joined experts and school teachers from around the world to share the best creativity in educational practice at a two-day international summit held in Paris and London this week.
Under the motto creative thinking in schools, the participants of the Creativity in Education Summit 2022 exchanged expertise on global politics, local action and interdisciplinary learning.
The summit was co-hosted by the Center for Educational Research and Innovation of the Organization for Economic Co-operation and Development and the Global Institute of Creativity Thinking. Present were representatives from China, the United Kingdom, Australia and the United States, among others.
Speaking on the first day of the Paris summit, Liu Liming, president of the China Education Association for International Exchange, said the Chinese government has been actively formulating policies to guide the development of students' core competencies and innovative ability.
"The current curriculum program and standards were just revised in April…emphasizing innovation by integrating the successful experience in developing the Chinese curriculum and learning from the latest achievements of curriculum reform abroad," he said.
In his speech, Andreas Schleicher, Director for Education and Skills at the OECD, recognized the importance of creativity and creative teaching and learning in today's knowledge societies and stressed that we should use new technologies for new learning.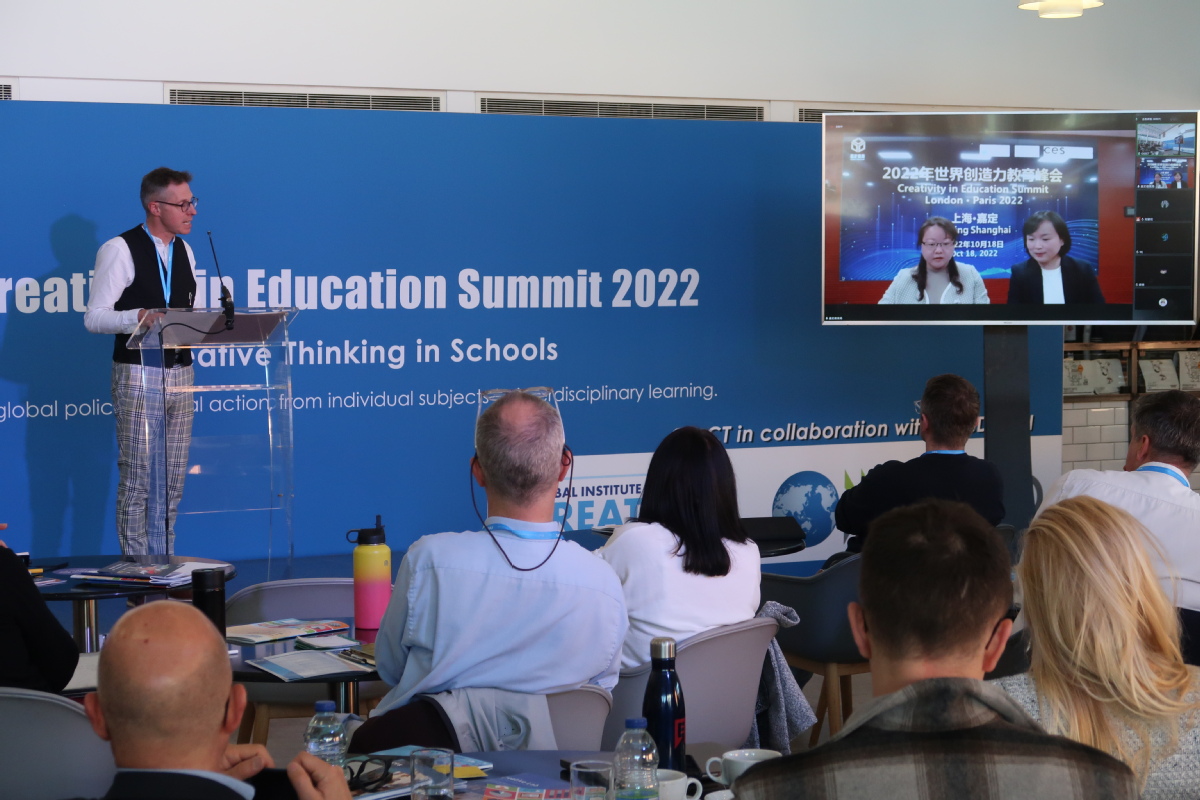 During a workshop held Tuesday at the British Library in London, a creative project titled "Underwater Drones" by Chinese students from Beicai Senior High School, affiliated with Shanghai Maritime University, in Pudong, Shanghai, excited was presented, caught the attention of many British teachers.
Xue Sheng, a physics teacher at the school, explained how last semester he guided students in building and upgrading an underwater remote-controlled drone while acting as a learning companion and point of reference.
"There were times when the students' questions and problems got to me too, but I was able to bring in (an) outside expert to help," he said. "The process has allowed students to go from curious rubbernecks to serious questioners, deep thinkers and creative problem solvers."
Edward Derbyshire, Head of Drama at Pate's Grammar School, pointed to the differences in education systems around the world and highlighted approaches from China that could serve as models for UK schools.
"The fact that it was okay for teachers to just be facilitators and collaborators with students is important," Derbyshire said. "As a teacher, I'm willing to tell students I don't know and let's find out together."
In another case study, Wang Bing, principal of Jiading Defu Middle School, presented how students at her school explored the topic of the geographic and historical formation of the "Hexi Corridor" in Northwest China, emphasizing the role of teachers as facilitators in the scaffolding learning journey .
An Guiqing, professor of curriculum and instruction at East China Normal University, said the latest round of national curriculum reform has emphasized interdisciplinary learning with an emphasis on forming the "holistic person" to enhance students' innovative literacy skills.
Laura McBain, co-interim executive director at Stanford University's Hasso Plattner Institute for Design, said she is impressed by the ability of Chinese educators to uncover projects that give students freedom and the opportunity to explore new products and ideas with accessible methods Design materials that make teaching creativity scalable.
Bill Lucas, Chair of the Advisory Committee of the Global Institute of Creativity Thinking, said, "I think there is a much greater interest in interdisciplinary, more problem-based learning in China."
Released during the summit was a report on the advances in creative thinking in schools around the world in 2022 and a study on creativity in comprehensive courses based on regional specifics, which included practices from more than 40 schools in Shanghai over the past three years .
"These are all really good examples of where the country is going. Educators encourage students to be more active and creative," Lucas said.