Two sophomores and one alumna were named 2023 Rhodes Scholars, the first time Columbia has selected three of its own members to be part of the US cohort.
Sophie A. Bryant CC'23, Astrid Liden CC'23 and Ilina Logani CC'22 were among 32 American women selected for the prestigious scholarship, which funds two or three years of postgraduate study at Oxford.
"I am delighted with the recognition of Sophie, Astrid and Ilina," said Ariella Lang, Associate Dean of Academic Affairs and Director of Undergraduate Research and Fellowships. "You are part of an inspiring group of nominees and finalists. I also want to recognize the faculty, advisors, staff, alumni recipients of this award and many others who have so generously supported, mentored and encouraged our applicants."
Rhodes candidates must be nominated by their university before going through an extensive application process. Criteria include academic excellence, commitment to the well-being of others and contribution to good in the world, and evidence of good character and promise of great leadership. The 2023 selection process for international candidates is still ongoing; In total, more than 100 scholarship holders from more than 60 countries will be nominated.
---
Sophie Bryant CC'23
Bryant has a double degree in East Asian Language and Culture and Mathematics. Originally from Moscow, Bryant lived in Shanghai for five years before relocating to Port Henry, NY in the Adirondacks. Her experience abroad aroused her curiosity about urban-rural contrasts, intercultural exchange and educational equity. With professional and academic interests living at the intersection of ethnography, education, and foreign policy, Bryant has research experience with organizations such as the Council on Foreign Relations, PEN America, the Brookings Institution, and Carnegie China. These engagements cemented her interest in Chinese domestic and foreign policy, Central Asian security, and Sino-Russian relations.
On campus, she is co-editor of The birch, an undergraduate journal dedicated to Slavic, Eastern European and Eurasia studies. Bryant is also active in educational service and advocacy, including teaching English to Ukrainian refugee children through Project Rosseau and developing philosophical logic curricula through Blocks Education. The latter aims to enable primary school-age students to develop skills in critical thinking, reasoning, reasoning and experiential learning. Bryant spends part of each summer working at her family's bed and breakfast in upstate New York. In the long term, Bryant hopes to earn a Ph.D. in social anthropology with a regional focus on China before conducting foreign policy research at a think tank. At Oxford she intends to do an M.Phil. in global and regional studies.
---
Astrid Liden CC'23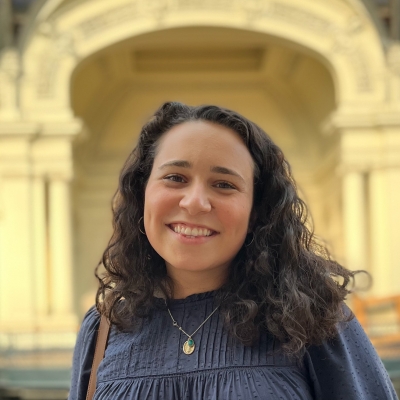 Liden, who is from Eden Prairie, Minnesota, has a dual degree in Latin American and Caribbean Studies and Political Science. Raised in both Venezuela and the United States, Liden has a keen interest in immigration policy. As a Laidlaw Fellow, she conducted research on the impact of Covid-19 on Venezuelan forced migration in Latin America, work that led to an internship in Santiago, Chile, where she conducted research ahead of the rewrite of the Chilean book Constitution on Migration Policy. As a Mellon Mays fellow, Liden's research examined another aspect of Venezuela's migration crisis, namely its impact on the family, work that will contribute to a thesis in Latin American and Caribbean Studies.
Liden has volunteered at the local and regional level for several non-profit organizations, including the International Rescue Committee, where she assisted unaccompanied migrant children, and Venezuelans and Immigrants Aid, where she works to provide resources for Venezuelan forced migrants and asylum seekers in New York City . Liden is also co-president of the Catholic Ministry of Columbia, tour guide and intern at Columbia Undergraduate Admissions, founding member of the Venezuelan Students Association, general secretary of the CESIMS Model United Nations conference, and music director for The Columbia Metrotones a cappella group. In addition, Liden works closely with the Columbia Institute of Latin American Studies and the Columbia Global Center, Santiago. Astrid hopes to work long-term in migration policy, particularly on the case of Venezuelan forced migrants in Latin America, the United States and internationally. As a Rhodes Scholar, she will earn an M.Sc. in Flight and Forced Migration Studies and an M.Sc. in sociology at Oxford.
---
Ilina Logani CC'22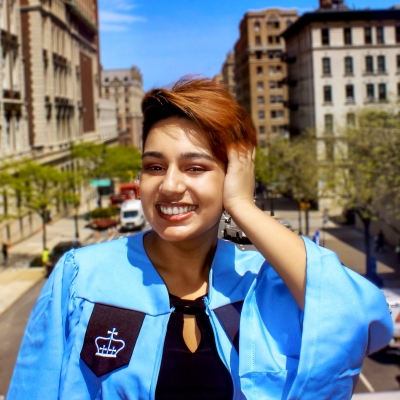 Logani studied economics and received the David Estabrook Romine Prize for the best thesis. Originally from Spokane, Wash., Logani founded the Spokane Youth of Color Coalition, which provides both a long-needed affinity space for Spokane youth of color and a resource center to help BIPOC youth develop skills and provide assistance in a variety of areas, from financial literacy to educational resources. Logani was also a research associate in the office of Washington Lieutenant Governor Denny Heck, where she served as the first author of two white papers examining the state's crisis over affordable housing and the economic impact of racial discrimination in housing.
In addition to her many other activities at Columbia, Logani was a co-founder and teaching assistant of Frontiers of Justice, a student-developed course that seeks to bridge the gap between Columbia students and surrounding neighborhoods through co-authored, multidisciplinary policy proposals, community leaders and students and through conscientious volunteer work. Currently, Logani is a Menard Family Pre-Doctoral Research Fellow at the University of Chicago's Harris School of Public Policy, where she conducts research on income inequality and poverty, with a focus on studying homeless mortality rates in the United States, compiling the first national estimate of the mortality of the homeless. As a Rhodes Scholar, Logani is pursuing an advanced degree in comparative economic policy analysis, with the ultimate goal of pursuing a career in policy analysis, policy making and legislation that will enable her to work more effectively towards economic and educational equity. To this end, she will earn an M.Phil. in comparative social policy at Oxford.
---
Current students and alumni can learn more about Rhodes and other scholarship offerings through the Office of Undergraduate Research and Fellowships.