Choosing the right face mask. Exploring the potential of human brands in sport. Sonorous exploration of La Paz, Bolivia. These were just a few of the topics presented at Florida State University's Three Minute Thesis (3MT™) competition.
The event, a Graduate School presentation, took place on Wednesday, November 16 at the Durell Peaden Auditorium at FSU College of Medicine.
Developed by the University of Queensland in Australia, 3MT™ is a research communication competition in which PhD students develop academic, presentation and research communication skills. The competition strengthens students' skills to effectively explain their research in language appropriate for an intelligent but non-specialist audience.
"The Three Minute Thesis (3MT™) is an opportunity for our graduate students to present and demonstrate their research, presentation and communication skills," said Adrienne Stephenson, Associate Dean of the Graduate School and Director of the Office of Graduate Fellowships and Awards. "It's a chance for them to share with a larger audience what they do, why it matters and why everyone should care."
Doctoral students have three minutes to give a persuasive speech on their dissertation topic and its importance. 3MT™ encourages students to consolidate their ideas and crystallize their research discoveries.
The jury included Renisha Gibbs, Associate Vice President of Human Resources and Finance and Chief of Staff of Administration; Jason Pappas, Associate Teaching Professor and Experiential Learning Coordinator in the Department of Sport Management; Cecile Reynaud, retired FSU volleyball coach and faculty member and past chairman of the USA Volleyball Board of Directors; and dylan rogers, Postdoc at the Institute for Classical Philology.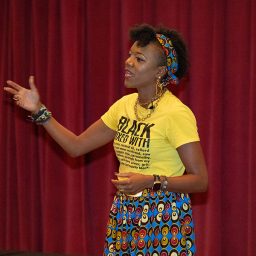 Dionne Wilson, a graduate student in the College of Education's science education program, won the competition and took home a $1,000 prize. Her thesis, The Making of Black Scientists, focuses on creating more equitable science learning environments to support effective science education.
"My passion is teaching young black kids science and getting them excited about it in ways the world is telling them they can't. It fulfills me," Wilson said. "I've always had a passion for my dissertation, for what I do, and it's nice to see that passion can be expressed in a variety of different fields through a variety of different perspectives. I think I'm just more motivated now than ever to just keep doing this work because there's a purpose to it."
judge selected Rachel Fleming, a graduate student in the Department of Modern Languages ​​and Linguistics, for second place and the $750 winner for her thesis, "Second Language Learning and Instructions from a Cognition-Based Perspective." Flemming's research focuses on Spanish linguistics and combines the fields of language teaching and psycholinguistics within a theoretical framework of processing and cognition. Flemming hopes this research will help to better understand how language learners process Spanish.
graduate student Sen Wang from the College of Education's Reading Education and Language Arts program received third place and $500 for presenting her thesis, The Effects of Shared Book Reading and Video Viewing on Preschool Children's Vocabulary and Knowledge Acquisition in Informational Text. Her research focuses on how to facilitate the reading process early on to provide a strong foundation for skill development.
Akshay Anand, a graduate student in mechanical engineering, took home the People's Choice Award and $500 for his presentation, "One Size Does Not Fit All: Selecting the Right Mask." For his thesis, Anand and his collaborators at Johns Hopkins University and Brown University developed a framework that uses a morphable face model and mask deployment simulation to test mask fitting for many facial features.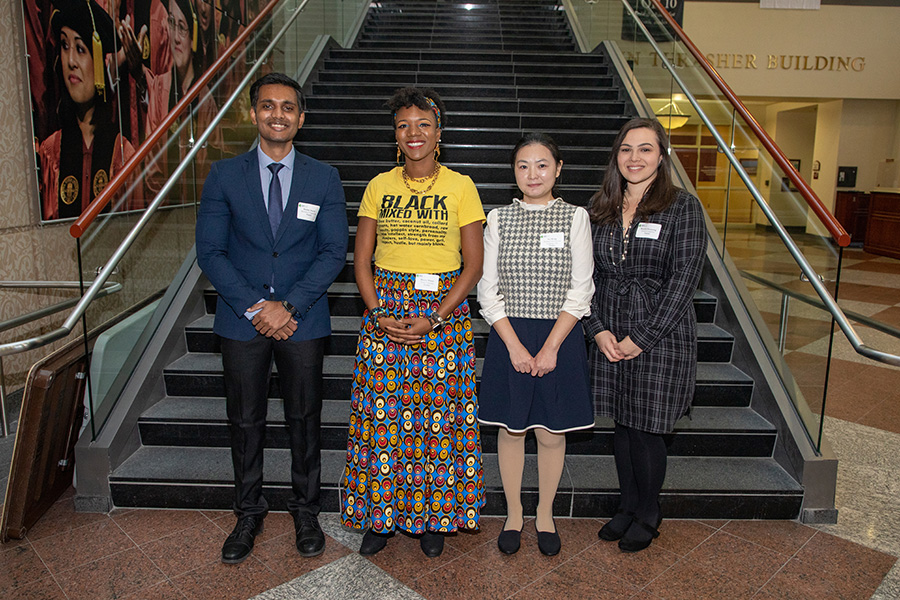 The other finalists were:
Addie McConomy, Special Education, "Development of a Formative Assessment Tool for Special Education Teachers".
Muhammad Prabu Wibowo, Information Science, "The Dynamics of Open Health Research Data in Universities".
Vivianne Asturizaga, Musicology, "Cantos de la Ciudad MAravilla: A Sonic Exploration of La Paz, Bolivia."
S. Gulavani peak, Sports Management, "A quasi-natural experiment to explore the transformative potential of sports people brands."
To learn more about Graduate School and the 3MT™ competition, visit gradschool.fsu.edu.